Museum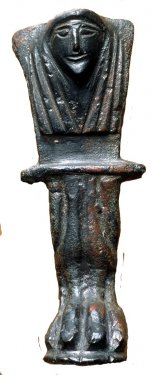 Bronze tripod leg in the form of a female protome resting on a feline claw. Found on the Temple plateau of the Timpone della Motta during the Scavi Kleibrink 1992-2004, 6th century BC.
I.A.A.4. Tripod leg in the form of a female protome resting on a feline claw
This type of tripod leg combines characteristics of legs with a fully anthropomorphic shape (cf. Museum No. – to be added) with those of others that are fully zoomorphic.
Such legs are solidly cast and often decorated with incisions, which here emphasize the hair but have been used sparingly.
South Italian bronze smiths evidently experimented freely when decorating the sets of three legs which supported an otherwise plain bronze bowl.
This makes identification of the figures rather difficult, which is therefore usually not attempted.
Related objects dedicated in the Hera sanctuary at Capo Colonna, for example, are winged, and their animal feet therefore probably represent Siren's claws. Such fierce Sirens grouped around a vessel will have functioned as guardians of its contents.
This leg has a prominent protruding ledge between the anthropomorphic and the zoomorphic section, which may be interpreted as a deliberate separation marker.
The head is framed by long locks of hair, indicating a female figure, and the presence of fully anthropomorphic tripod legs with human feet in the sanctuary suggests that such protomai may represent either the goddess herself or her worshippers. [1]
The present author chooses the latter option because of the tripod leg's multiple meaning, which in the specific context of the sanctuary of Athena on the Timpone della Motta referred to the young girls dedicated to the goddess, who protected the ritually pure water that was also sacred to her.
The object is associated with the 6th-century temples on the Timpone della Motta, and it was unearthed during the Scavi Kleibrink 1991-2004. It is now in the National Archaeological Museum of the Sibaritide, Sibari.
[1] Papadopoulos 2003, nos. 18 and 19.