Museum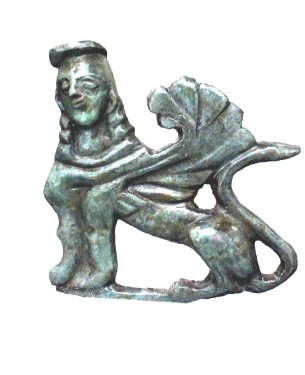 Bronze sphinx, vase attachment, probably locally produced, first half of the 6th century BC, height 7.8cm. Found on the Temple plateau on the Timpone della Motta during the Scavi Stoop 1963-69, National Archaeological Museum of the Sibaritide, Sibari
I.A.A.4. Bronze sphinx, vase attachment, early 6th century BC.
We may assume that this grinning animal with its lopsided face did not come out of its mould quite as its creator intended.
The left corner of the mouth is higher than the right one, and the outer corner of the right eye is turned down instead of up.
The arrangement of the wing and the front legs is also rather peculiar: the animal's hindquarters are presented in profile but its front is in three-quarter view.
This arrangement is known from animal attachments on bronze vessels produced at Taranto in the first half of the 6th century BC, such as the famous hydria with bronze attachments of a 'Mistress of animals' and her animal companions, found in an elite grave at Graechwil near Bern in Switzerland (Fig. A). This helps us to identify the sphinx as part of a similar arrangement on a bronze vessel produced in imitation of the Tarentine examples.
The comparison is strengthened by the similarity between the wings of this sphinx to those of the Goddess on the Graechwil hydria.
The object is associated with the temples from the first half of the 6th century BC on the Timpone della Motta. It was found during the Scavi Stoop 1963-69 and is now in the National Museum of the Sibaritide at Sibari.