Museum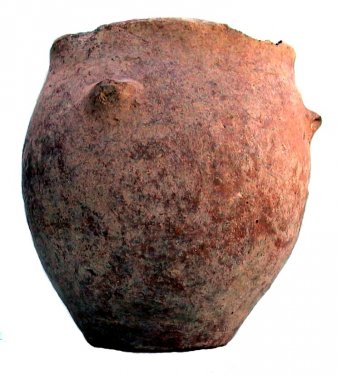 Impasto jar with small lugs below the rim, height 15.9cm, Timpone della Motta, 8th century BC., National Archeological Museum, Sibari.
V.C.3. Impasto jar with lugs
Most of the impasto vessels used in the Weaving House on the Acropolis were jars. Unfortunately, most jars were reduced to small fragments when found, and a complete specimen like this one is rare. It was part of a group of complete impasto vessels of various types (see Museum numbers //).
The impasto clay contains many mineral inclusions, which may have been originally present in the clay or may have been added deliberately. In any case, because of them impasto vessels are much more resistant to the thermal shock of cooking fires than are the refined clays of the matt-painted or imported Corinthian wares.
The presence of impasto jars in such large numbers can therefore perhaps be explained by assuming that they were cooking vessels. If they were, then the jars perhaps accumulated at the sacred site because they were left behind by participants in the religious ceremonies, after finishing their meal.
The object is associated with the Weaving House on the Timpone della Motta, Scavi Kleibrink 1991-2004, no. AC17.19b.im01 and is now in the Archaeological Museum at Sibari.