Museum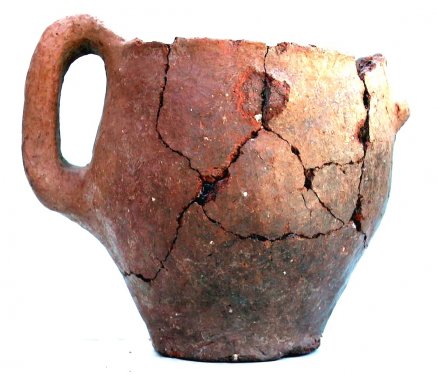 Impasto drinking mug, height 11.9 cm, found on Timpone della Motta, 8th c. BC.
V.C.1. Impasto drinking mug
The great majority of the pottery associated with the 'Weaving House' on the Timpone della Motta was made of the unrefined clay usually called impasto. The nicer specimens are burnished but most have only been smoothed on the outside, as was this specimen.
The uneven colour of this mug suggests that it was fired in an open fire or a badly regulated kiln. Alternatively, it may have been used as cooking pot, in which case the black colour would be secondary.
However, the mug's shape with its small base argues against this explanation, since the many cooking jars in the same contexts are all broad-based. Probably this mug was used for drinking and/or pouring liquids.
The material may be rough, but the shape is pleasing and balanced. It is a highly traditional one in the South-Italian cultures of the Late Bronze Age and the Early Iron Age. The small lugs attached to the vessel just below the rim are also a common feature of impasto ware.
The object comes from the Weaving House on the Acropolis on the Timpone della Motta, Scavi Kleibrink 1991-2004, no. AC17.19b.im195 and is now in the National Archaeological Museum, Sibari.