Museum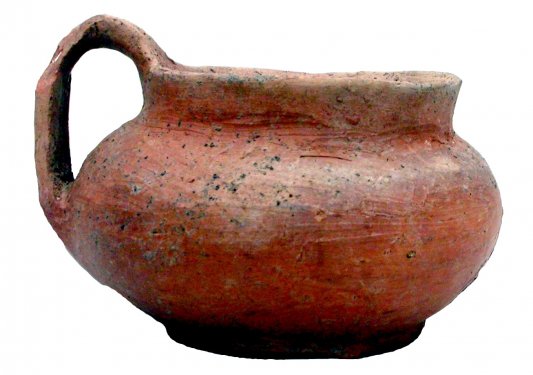 Dipper cup in 'impasto rosso', found on Timpone della Motta, Late Geometric, 2nd half 8th c. BC
V.C.2. Dipper cup in 'impasto rosso'
The cup with its compressed globular body and straight rim is made up by hand from stacked clay rings.
The finishing with a red -firing slip shows that, although done very roughly, the cup was considered a special product. This is also apparent from the fact that such dipper cups on the Timpone are well-known in refined clay, often decorated, but very rare in impasto.
Shiny impasto rosso occurs among the impasto pottery produced near the Timpone, but it is not very abundant nor anywhere as nice as the impasto rosso produced in Etruria and Lazio.
The object is associated with Temple V.c, found on the Timpone della Motta, Scavi Kleibrink 1991-2004.