Museum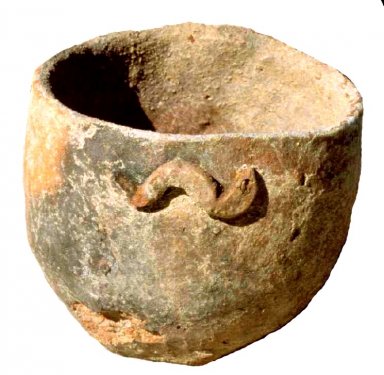 Impasto jar decorated with a modelled serpent, found on the Temple plateau of the Timpone della Motta during the Scavi Kleibrink 1992-2004, 8th century BC.
I.C.1. Impasto jar decorated with a serpent, Timpone della Motta
This pot is exceptional in that it is still intact, which enables us to admire its serpent decoration. That this is indeed the animal that was intended is indicated by the hole in its right end, representing an eye.
The vessel's uneven colouring of indicates that it was fired in a primitive kiln in which the fire could not be controlled well.
Modelled or incised decorations on handmade impasto vessels are not very common on the Timpone della Motta, and the addition of a serpent to this vessel and to few other, highly fragmented ones was a refreshing initiative.
However, it is possible that the idea derived from the modelled zigzag decoration found on a number of other impasto vessels (cf. Museum No. – to be added). That type of decoration originated elsewhere, as Colelli's research showed.[1]
The object is associated with the Weaving House on the acropolis of the Timpone della Motta, found during the Scavi Kleibrink 1991-2004. It is now in the National Archaeological Museum of the Sibaritide, Sibari.
[1] Carmelo Colelli, Riflessioni su un motivo decorativo sulla ceramica da impasto dal Timpone della Motta, VI Giornata Archeologica Francavillese 2008, 41-49.