Museum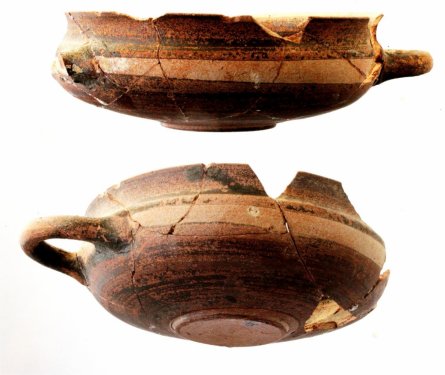 Skyphos (wide drinking cup) with reserved band between its handles, produced in the Sibaritide, diameter // cm, found during the Scavi Kleibrink 1991-2004, AC2765.sky01, Athenaion,Timpone della Motta, last quarter 7th c. BC, National Archaeological Museum, Sibari.
V.F.12. Locally produced skyphos with reserved band, Athenaion, Timpone della Motta
The low and wide bowl stands on a low solid ring foot and has a relatively high, slightly out-curved rim.
The originally black glaze that covered the inside and outside of the cup has for the larger part flaked of leaving a brownish and uneven colour.
The vessel is clearly inspired on imported Corinthian black-glazed skyphoi of the late Protocorinthian, Transitional and Early Corinthian style periods (compare no. V.F.11).
Except from the fabric and lesser quality of the glaze the locally produced vessels may be recognised by their lower forms and wider foots, which do not flare.
The cup was found in the cella of Temple V.d. and will have been used for a wine libation. Athenaion, Timpone della Motta, Scavi Kleibrink 1991-2004 , AC 2765sky01, National Archaeological Museum at Sibari.