Museum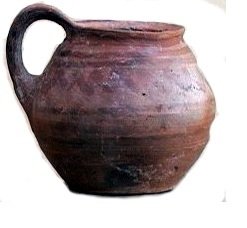 Drinking mug, decorated in Oenotrian-Euboian style, height //cm, from the Timpone della Motta, 8th century BC, National Archaeological Museum, Sibari.
V.B.2. Drinking mug in Euboian style
This little mug was made on a fast potter's wheel and decorated with a glossy glaze, most of which has now disappeared.
The main decoration is a shoulder frieze filled in with a zigzag or wavy band.
This mug is evidence of the early production of Greek-style vessels at Francavilla Marittima, as are more than one hundred other wheel-thrown vessels found on the Acropolis of the Timpone - unfortunately all very fragmentary.
Other production centres were near Pontecagnano in Campania, and on Ischia.
Euboian traders are well known to have sailed westward, where according to legend they founded the Euboian colony of Pithekoussai ('monkey island') on Ischia. Less is known about the various crafts they brought along, or about their influence.
That potters' workshops decorating pots in Euboian style were active at Francavilla Marittima as early as the first half of the 8th c. BC is a new discovery.
This small mug's shape and decoration are very similar to those of the native Oenotrian hand-made mugs decorated with undulating bands (compare Museum no. V.A.1.). Apparently the 'Euboian' workshops were also influenced in turn by the native potters.The clay used in both production processes is similar, although the final 'Euboian' fabric is more compact.
The object is associated with the Weaving House and its altar on the Timpone della Motta, Scavi Kleibrink 1991-2004, AC03.11.oe// and is now in the Archaeological Museum at Sibari.
Lit.: Jacobsen 2007.