Museum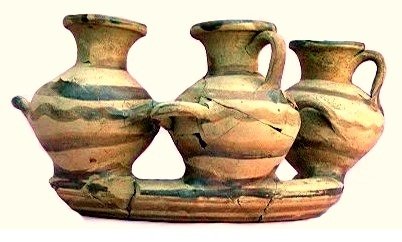 Ring (kernos) with miniature water jars (hydriskai) diameter ring // cm, found on Timpone della Motta, 7th c. BC, National Archaeological Museum, Sibari.
V.G.4. Kernos (ring) with hydriskai (water jars)
This hollow pottery ring is incomplete but the size suggests that originally seven small water jars (hydriskai) were sitting on it. The function of such objects was certainly cultic but how they were used is still uncertain. Because the objects are hollow, liquids poured in one of the miniature pots would emerge from the others.
Thousands of hydriskai found in the sanctuary indicate that water libations were important. Images show moreover that they took place during or after dancing. This fact together with the average size of the rings allows the suggestion that the kernoi were placed on the heads of dancers before they used them in libations.
The object comes from the South Fill where many more kernoi fragments and hydriskai were found, from the Acropolis,Timpone della Motta, Scavi Kleibrink 1991-2004, no. AC///