Museum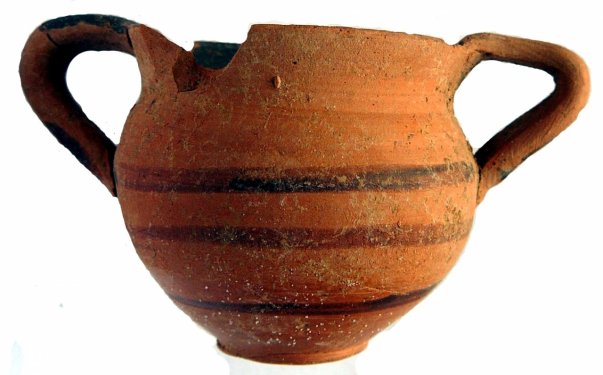 Locally produced banded kanthariskos, found during the Scavi Kleibrink 1991-2004 on the Timpone della Motta, 7th c. BC, National Archaeological Museum, Sibari.
V.G.1. Locally produced banded kanthariskos
This kanthariskos was produced locally in the Sibaritide and derives from an Achaean prototype (compare no. V.G.2.1).
The local cups are of the same fabric as the hydriskai and have often been decorated in the same simple fashion, in this case with horizontal bands.
Hydriskai and kanthariskoi (together with other objects) often occur together in votive assemblages in the second half of the 7th c. BC, when the sanctuary flourished, and the excavators therefore believe that the combination of this type of cup and jug may have had a specific symbolic meaning.
This raises an interesting question concerning the degree of miniaturisation involved. The average height of 'original', full-sized Achaean kantharoi is ca.10 cm, while these miniatures measure between 4 and 7 cm. While drinking from them is still possible, their small size makes more sense if they were used solely for libations in the sanctuary.
The object is associated with Temple V.d on the Timpone della Motta, Scavi Kleibrink 1991-2004, no. AC02.22.ka11.