Museum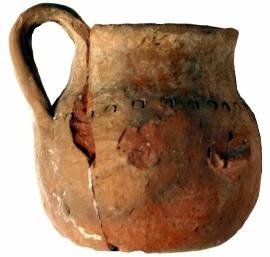 Hand-made miniature hydria (hydriska), with a decorative row of punch marks on the shoulder. Scavi Kleibrink 1991-2004, Timpone della Motta, late 8th-early 7th c. BC, National Archaeological Museum, Sibari.
III.C.5. Miniature hydria, hand-made, Athenaion, Timpone della Motta
This small, somewhat clumsy pot has all the charm of a home-made product striving to be something more. Originally two horizontal handles were attached to the body, as the remaining scars indicate. Unfortunately both handles broke off and are now missing.
The thousands of hydriskai from the Athenaion on the Timpone della Motta, displaying a variety of styles, show that especially the more elaborately executed ones were dedicated to Athena (e.g. Museum no. V.G.3.).
Whether this hand-made specimen is older than the wheel-thrown hydriskai that were produced by the thousands during the 7thcentury BC is unknown.
We suspect that it is, since the punch marks of its decoration are also found on the tintinabula (cf. Museum no. III.C.1.), and the vessel's shape somewhat resembles the Oenotrian conical-necked vessels produced from stacked rings (Museum no. V.A.1.).
If our suspicion is correct, then this pot displays a Greek shape produced within the Oenotrian family-workshop tradition, a characteristic shared by – among others - the many small hand-made attingitoi (cf. Museum No. V.A.9.).
Slightly different hand-made hydriskai were found in the Athenaion during the Scavi Stoop 1963-69. Together with the present specimen they suggest that the Oenotrian worshippers who visited the Athenaion on the Timpone della Motta around 700BC had fully adopted ritual water libations, to which Greek seafarers and immigrants had introduced them.
The object was found during the Scavi Kleibrink 1991-2004 on the Timpone della Motta.