Museum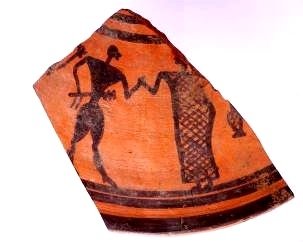 Fragment of a pyxis lid decorated with a dancing couple, by the Francavilla Painter, last quarter 8th c. BC, diameter circa 30cm, National Archaeological Museum, Sibari.
V.B.3. Lid fragment with dancing couple, Athenaion, Timpone della Motta
A nude young man with a sword attached to his waist band holds a girl, dressed in a long garment, by the hand. His pointed left foot shows that the couple is dancing, even though the girl is holding a vessel in her left hand.
The couple is probably dancing in front of a cult statue that has its arms raised, as the one arm visible near the man's shoulder is larger than those of the couple and has all fingers spread (for goddesses with raised hands compare Museum nos. III.B.2., III.B.3., III.B.5.).The man and the girl strongly resemble those painted on a large pyxis – this fragment probably belongs to its lid – which was looted in the 1970s from the Timpone della Motta (cf. Museum no. V.B.4A.).
So far, this pair of dancers is unique in ancient art. The fact that they are associated with scenes depicting a female libation dance (A-side of the pyxis) and a male line dance (B-side) suggests an interpretation of their dance as being part of a series of cultic dance events. Perhaps the girl poured a libation from the vessel before dancing with her (future?) partner, who perhaps participated in the male dance before dancing with his bride.
The work of the Francavilla painter strongly resembles that of Athenian Late Geometric vase painters, and in the case of an Athenaion - like the one on the Timpone della Motta - such an Athenian link is helpful. Among other things, it points towards a possibly early adoption of cultic performances like these dances.
The work of the Francavilla painter is probably the earliest in Italy that depicts scenes with human figures.
The fragment stems from the Scavi Kleibrink 1991-2004 and is now in the National Archaeological Museum at Sibari.