Museum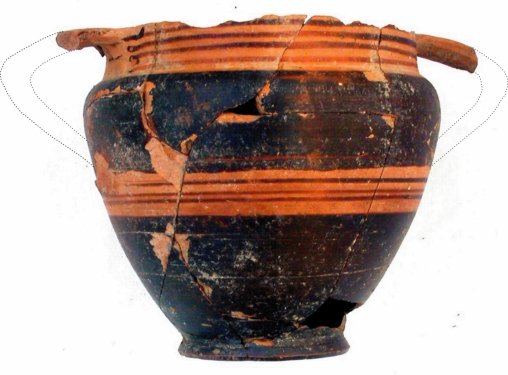 Achaian-style banded kantharos, Timpone della Motta, 7th c. BC, National Archaeological Museum, Sibari.
V.G.2.1. Achaian-style banded kantharos
This type of kantharos, commonly known as the 'Ithaca type', is represented on the Acropolis on the Timpone della Motta by hundreds of specimens, which makes it one of the most common pottery types there.
John K. Papadopoulos proposed the new name of 'Achaian style', because many of these cups were probably imported from the north-western Peloponnesus - the region known as Achaia, where the colonists of Sybaris came from.
Certainly local South-Italian potters, after being taught by their Greek colleagues, copied this kantharos type and created their own variations (Cf. Museum no. V.G.1.). This particular kantharos has a standard oval form, a neatly profiled base and flush handles and it probably is a local product.
The object is associated with Temple V.d on the Timpone della Motta, Scavi Kleibrink 1991-2004, no. AC22.03.ac02.
Lit.:
Kleibrink 2004, 21-35.
Papadopoulos 2008, 57-84.
Tomay 2002, 331-355.