Museum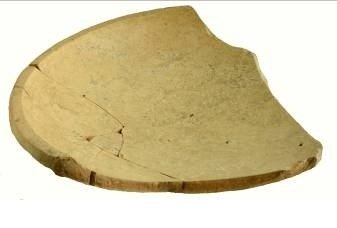 Basin fragment from a Corinthian louterion (water basin), diameter ca. 30cm, from the South Fill, Athenaion, Timpone della Motta, 7th c. BC, National Archaeological Museum, Sibari.
III.C. 4. Louterion fragment, imported from Corinth, Athenaion, Timpone della Motta
This is the largest section that Maria D'Andrea (a scholar participating in the excavated at Francavilla) could assemble from numerous fragments of imported Corinthian louteria. Fragments of such basins are easily recognisable by their ivory shine and silky feel.
The louteria were built up out of three separate elements: a basin, a foot and a fenestrated cylindrical segment connecting the two (Fig. A).
The feet of the specimens from the sanctuary of the Timpone della Motta are decorated with diagonally cross-hatched incisions.
In the Greek world, this type of basin is associated with bathing; many vase paintings show us Greek women washing their hair or bodies in a louterion.
Thousands of hydriskai (miniature water jugs) were also found in the sanctuary on the Timpone della Motta (compare Museum no. V.G.3.), which again confirms that water was an important element in the cult of Athena. The presence of water basins, especially those imported from Corinth, also marks the cultic importance of this liquid.
The locations and the diversity of the louteria fragments suggest that several of them were used at the east end of Temple V, i.e. near the entrance of that building.
The fragments were found on the Timpone della Motta and are now in the National Archaeological Museum at Sibari.
Lit.: M.d'Andrea, Bacili di produzione corinzia dal Timpone Motta di Francavilla Marittima: osservazioni preliminary, VI Giornata Archeologica Francavillese, Ventura, Francavilla Marittima 2004, 25