Museum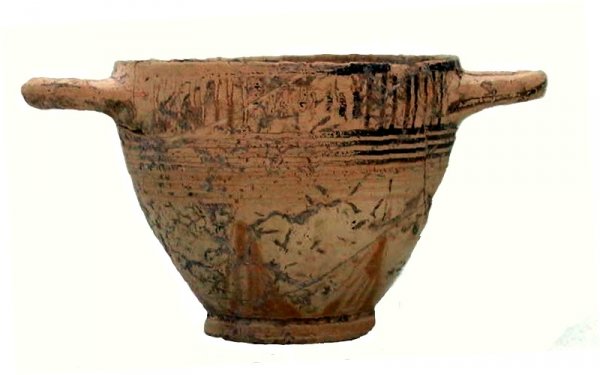 Miniature kotyle (cup) with sub-geometric decoration, height 5cm, Timpone della Motta, late Proto-Corinthian, 650/40BC, National Archaeological Museum, Sibari.
V.F.8. Miniature kotyle with Sub-Geometric decoration
Hundreds of cups of this type were found in the Athenaion on the Timpone della Motta, both miniatures such as this one and full-sized cups.
The miniature cups of this type have been better preserved, because of their smaller size.
Most are imported pieces from Corinth, which raises the question how this trade was organised.
Miniature pots are usually thought to have been made exclusively as dedication objects and offerings to the gods. They resemble the typical full-sized types used in daily life (compare the kotyle described next), but they are much too small for any practical purpose.
The conclusion must be that the Corinthian potters produced the miniatures expressly as a trade commodity, and that the Corinthian traders expected to find sanctuaries in South Italy that needed miniatures, and buyers who would purchase them.
The object is associated with Temple V.c on the Timpone della Motta, Scavi Kleibrink 1991-2004, no. AC03.36.ko20 and is now in the National Archaeological Museum at Sibari.