Museum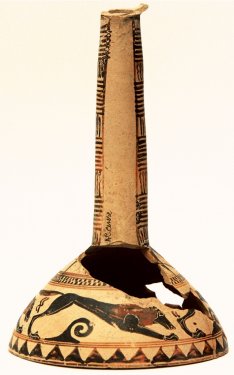 Lekythos (jug for olive oil), decorated with dogs chasing a hare, height 19.4cm, found on Timpone della Motta, Middle Proto-Corinthian, mid 7th c. BC, National Archeological Museum, Sibari.
V.F.2. Lekythos, decorated with three dogs chasing a hare
The dogs are painted in black-figure technique with incised detailing. For more effect a thin coat of purplish clay was added to the front section of the animals. The animals' bold and elongated attitude gives an impression of speed.
The portrayed dogs are probably the famous and still existing Greek hare hounds (Hellenikos Ichnilatis), sleek medium-sized black dogs with tan markings. In ancient Greece hare hunting was a popular pastime for young boys, who are depicted on Attic vases while chasing hares into nets, with or without the help of their dogs.
Dog friezes were extremely popular, not only in Corinthian vase painting but also among the visitors of the sanctuary on the Timpone della Motta: ca. 10 very similar lekythoi were found, and many more Corinthian vessels with the poorer silhouette-style variant of the dog friezes.
The work of a Corinthian vase painter called the 'Hound Painter' (see British Museum online) may have influenced this popularity.
The object was found in a layer of altar ash, although it is unburnt and has not been in contact with fire. From the Timpone della Motta, Scavi Kleibrink 1991-2004, no. ACcenere4.le01.