Museum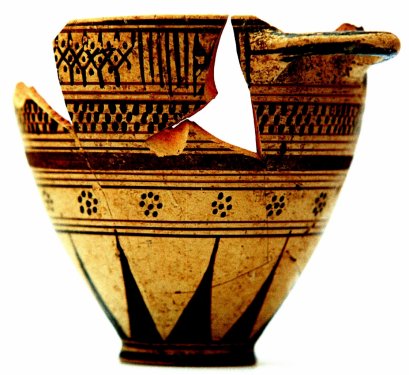 Kotyle (cup) with Orientalising decoration, height 8.6cm, Timpone della Motta, Middle or Late Proto-Corinthian, first half 7th c. BC, National Archaeological Museum, Sibari.
V.F.9. Kotyle with orientalising decoration
Thousands of these elegant, thin-walled cups have been found on the Acropolis of the Timpone della Motta, although most are decorated more simply. The cups were used in religious festivals during the entire period the temples were in use, from ca. 730 to 550 BC. They also occur frequently in other sanctuaries.
The decoration of this cup consists of a neatly painted pointed star radiating upwards from the base, followed by a band filled in with rosettes and a second one with alternating dots. This decorative scheme shows orientalising influences. The division of the zone between the handles into frontal panels - in this case filled in with an open pattern of lozenges and dots – harks back to the earlier Geometric cups.
These cups are of normal size and imported pieces. On the Acropolis of the Timpone della Motta they are found together with miniature-sized kotyliskoi, kanthariskoi, kalathiskoi and hydriskai.
The object is associated with Temple V.C on the Timpone della Motta, Scavi Kleibrink 1991-2004, no. AC03.36.ko20.