Museum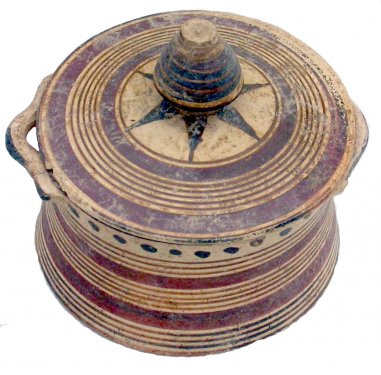 Pyxis (wheel thrown box) with lid, decorated with red bands, height // cm, found on Timpone della Motta, late Proto-Corinthian/early Corinthian, 2nd half 7th c. BC, National Archaeological Museum, Sibari.
V.F.7. Pyxis decorated with red bands
Like the many other pyxides found on the Timpone, this one was imported from Corinth.
The simple but fully covering decoration of the box and the lid consists of thick red bands alternating with narrowly placed parallel lines. A row of dots interrupts this pattern at the rim of the box as does the star around the knob on the lid.
The amount of 7th c.-BC pyxides found on the Acropolis far exceeds that of other sanctuaries.
They occur in the company of drinking and pouring vessels in votive groups and are always found empty.The use for cosmetics is the best known and they may have been used either to adorn the environment of the goddess or her statue or the participants in her cult.
But in the groups of votive objects the pyxides often take the place of the kalathiskoi, which makes one think that they could also have contained fluffs of unspun wool.
The object is associated with Temple V.c, found on the Timpone della Motta, Scavi Kleibrink 1991-2004, no. AC05.06.pc03.