Museum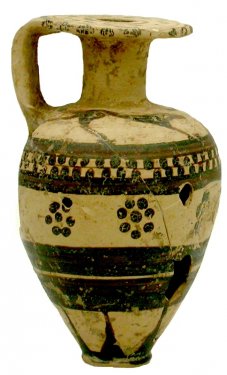 V.F.4. Aryballos (perfume bottle) decorated with dog s and rosettes, found on Timpone della Motta, 7th c. BC, National Archaeological Museum, Sibari.
V.F.4. Aryballos with dogs and rosettes
To the goddess venerated on the Acropolis of the Timpone della Motta aryballoi were often dedicated. The majority was imported from Corinth, but local copies are also found.
The shoulder of this bottle is decorated with dogs in silhouette style.
These animals are very popular in the Middle and Late Proto-Corinthian periods. A date sometime around the middle of the 7th c. BC for this small bottle depends on the decoration and on its form. It has been established that the bottles produced in the last Proto-Corinthian phase are even more pointed than this one.
On the Timpone della Motta the small bottles always occur in groups together with other pottery. The several combinations are indicative of festivals in which cosmèsis was an important element. Most likely the adornment of the statue of the goddess as well as that of the women and girls participating in that happening.
The object is associated with Temple V.d, found on the Timpone della Motta, Scavi Kleibrink 1991-2004, no. AC04.22.pc0/.