Museum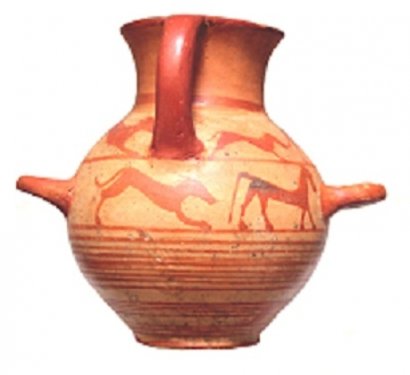 Small hydria (water jar) with modern painted animal motifs, presumably added to raise its price – a modern fake. From the Bern-Getty collection, returned to the Archaeological Museum at Sibari.
V.F.24. Genuine hydriska with a modern addition of painted animals.
This nice hydriska was evidently complete when the clandestine diggers found it in the 1970s on the Timpone della Motta, an unusual condition among the thousands of similar jugs.
Unfortunately, this was probably why it was chosen to receive a false decoration, in order to raise its interest for a future buyer.
The artist who painted this false decoration was very good in rendering animals in the 'silhouette-technique', which is found on hundreds of 7th-century BC aryballoi, alabastra and lekythoi found at ancient sites such as the Timpone della Motta (compare Museum No.V.F.5). Moreover, the paint he used was a levigated clay, which was also used by the ancient painters.
A few mistakes, though, should alert us to the scam: the animal facing the right handle is a horse, and not a dog like the animal behind it. Friezes in which several species are combined are extremely rare in silhouette technique, but they do occur on Corinthian black-figure vase paintings, where added incisions are also common. On this hydria, however, the animals are red and not embellished by incisions.
The placement of the upper and lower frieze is also odd, as is the fact that the handles and the neck are covered in red paint.
The hydria was obtained together with other looted objects from the Timpone della Motta from the Bern-Getty collection. It is now in the national Archaeological Museum of the Sibaritide, Sibari.