Museum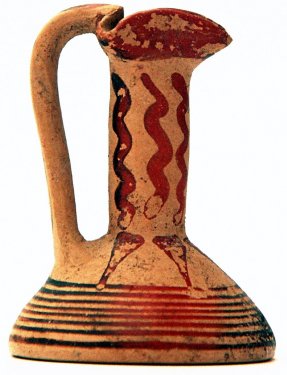 Miniature oil jug (conical lekythos) with sub-geometric decoration, height 5.7 cm, Late Proto-Corinthian, second half 7th c. BC, National Archeological Museum, Sibari.
V.F.1. Miniature oil jug with Sub-Geometric decoration
During the 8th and 7th centuries BC such elegant pots with a high handle and a trefoil opening were often produced by the potters of Corinth (Greece) and copied in the 7th c. BC in South-Italy; from c. 600 BC they completely disappear from the repertoire.
In this specimen the sub-geometric decoration of close fitting lines was enriched with new motifs like the star around the shoulder and the rough undulating lines on the neck.
The jug survived temple cleaning intact because of its small size. The find record at Francavilla Mma shows that in the temples on the Timpone della Motta hundreds of lekythoi must have been used. Painted vase-scenes from the period show women carrying wide baskets on their heads filled with objects used in sacrifice, among these lekythoi are frequently depicted.
The object stems from the South Fill on the Acropolis of the Timpone della Motta. It is a large area filled with objects from various temple cleanings and dedications: found during the Scavi Kleibrink 1991-2004, no. AC16A.09.0194.