Museum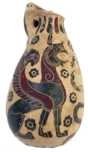 Small alabastron (flask for perfumed oil) with two griffins confronting a snake. Found during the Scavi Kleibrink 1991-2004 on the Timpone della Motta. 7th century BC. No. 25.02.kor02 National Archaeological Museum, Sibari.
V.F.17. Small alabastron (perfume flask) with griffins confronting a snake
Fortunately an excellent pencil drawing and a photo exist of this small alabastron from the South Fill on the Timpone della Motta, because after Dr J.K. Jacobsen had placed it in storage at Sibari he reported that the object could no longer be found.
A griffin (gryphon) is a mythical animal with the front part of an eagle and the tail and hindquarters of a lion. It has pointed, upright ears like those of a donkey, on an eagle-like head.
The griffins painted on this flask have large curling wings and no lion fur, which makes them more eagle-like than other such creatures.
Mythical animals like chimaerae, sphinxes and griffins confronting snakes are painted fairly often on small Corinthian alabastra. Their production took place in Corinth in mutually related workshops, which took their inspiration from a few master painters including the 'griffin painter', the creator of the decoration on this alabastron and of other attractive friezes in black-figure style with applied red paint.
In the Hera sanctuary at Perachora near Corinth another griffin frieze by this painter was found.That his work was exported is evident not only from the Francavilla alabastron but also from an alabastron fragment with a griffin found at Murge di Strongoli.The Francavilla alabastron is a relatively early work of the painter; its neatly painted dot rosettes, instead of blob rosettes such as those on the Perachora alabastron, place this specimen between 640 and 620BC.The object stems from the South Fill on Acropolis of the Timpone della Motta, Scavi Kleibrink 1991-2004, no. AC25.01.cor02.
Before being reported lost it was in storage at the National Archaeological Museum at Sibari.Lit.:Amyx 1988, p. 53-55 (with further references).De la Genière 1983-84, p. 187, no. 28, pl LXXXIII.Perachora II, no. 1510, pl. 59.