Museum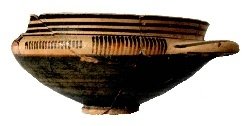 Skyphos (wine cup) imported from Corinth. From the Scavi Kleibrink 1991-2004, no. AC22A.09.k07, Timpone della Motta. Height 5.1cm, diameter at rim 17cm. Late Protocorinthian. National Archaeological Museum of the Sibaritide, Sibari.
V.F.19. Wine cup (skyphos) with sub-geometric decoration, Athenaion, Timpone della Motta
Worshippers in the sanctuary on the Timpone della Motta frequently brought this type of Proto-corinthian wine cup with them.
This specimen is transitional between the earlier, deeper cups with a small rim and the later, shallower ones with a star painted on the lower body. Its sub-geometric decoration places this skyphos in the Late Protocorinthian period, sometime after the middle of the 7th century BC.
The type inspired a large-scale local production of wine cups decorated with horizontally banded rims, or 'coppe a filetti' (Museum No. to follow) in Italian archaeological literature.
The vessel –together with at least 200 others – is contemporary with Temple V.C. It is now in the National Archaeological Museum of the Sibaritide.