Museum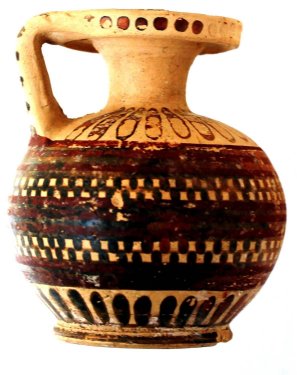 Globular aryballos (scent bottle) on base, decorated with purple and black dotted bands, from the Scavi Kleibrink 1991-2004 on the Timpone della Motta, mid 7th c. BC, National Archaeological Museum, Sibari.
V.A.1. Globular aryballos with purple and dotted bands
The production of globular aryballoi in Corinth was divided in three types by Payne according to their form characteristics. This one belongs to his group C because of the base, which does not occur in the earlier groups a and b which contain vessels with convex bottoms.
The C group is generally dated in the transitional phase from the Protocorinthian to the Corinthian style or in the early Corinthian period. Several specialists have applied various dates to these periods, but in general this type of vessel may be dated to the last quarter of the 7th c. BC.
The object comes from Temple V.d of the Temple plateau on the Timpone della Motta, Scavi Kleibrink 1991-2004, no. AC16A.02.ko02 and is now in the National Archaeological Museum at Sibari.