Museum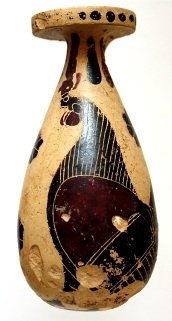 Alabastron (perfume flask) with a large rooster facing left and surrounded by blob rosettes, imported from Corinth, from the Scavi Kleibrink 1991-2003, now in the National Archaeological Museum at Sibari, dated around 600BC.
V.F.6. Alabastron with large cock, Athenaion, Timpone della Motta, c. 600BC
Cocks were a popular motif for alabastra; ca. 100 specimens decorated with a single cock facing left or right, or with two facing each other, are known from the Athenaion on the Timpone della Motta.
We know from literary references that cocks were sacrificed to Asklepios, but the contents of aryballoi with cocks are unlikely to have been medicinal.
Instead, the motif would have reminded ancient beholders of the cockfights popular in ancient Greece, and almost certainly also of the custom among homosexual lovers to offer a cock as a love present.
The iconography thus refers to male activities, (e.g. Barringer 2001), as do the friezes of dogs on other scent bottles (cf. no. V.F.5.). These activities involved mainly young men, who used scented oil to clean themselves after their exercises in the palaistra.The bottle may therefore have been part of a votive gift to Athena by a young man.
The bottle was found during the Scavi Kleibrink 1991-2004 and is now in the Archaeological Museum at Sibari.
Lit.
J. M. Barringer, The Hunt in Ancient Greece, 2001.