Museum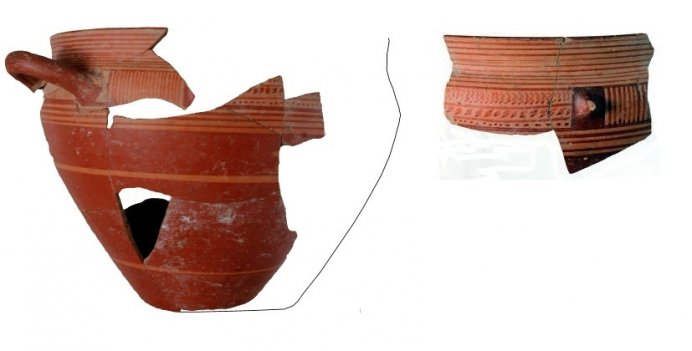 Skyphos crater with intricate decoration in the handle zone, found during the Scavi Kleibrink 1993-2004 on the Timpone della Motta, first half 7th c. BC, National Archaeological Museum, Sibari.
V.F.16. Red skyphos crater from the Athenaion on the Timpone della Motta
The name of this object is not ancient but a modern invention.
It refers to the fact that the vessel combines the size of a crater with the shape of a skyphos or drinking cup (compare Museum no. V.F.11.), although this particular specimen is comparatively tall and not very wide and thus closer to what archaeologists call a kotyle (compare Museum no. V.F.10.).
Compared to the thousands of drinking cups and pouring vessels - full size or miniature - from the Athenaion, the number of these larger craters is limited (compare also Museum No. ), which suggests an uncommon ritual use for them.This impression is enhanced by the excellent quality of this thin-walled and carefully painted specimen.
Rows of Protocorinthian motifs like chevrons and sigma's have been applied as decoration, as well as a rather un-Corinthian row of dots.
The workmanship far exceeds the usual local imitations of Protocorinthian products. Attribution to a specific workshop in South Italy or some other location between Corinth and Italy is not yet possible, also since similar (but not identical) craters also occur at Incoronata di Metaponto.[1]
The rim, with stripes continuing below the transition to the shoulder, reminds of the decoration of Thapsos cups, and perhaps the shape - between a kotyle and a skyphos - also derives from that type of cup.
The crater's date would then fall somewhere in the first decennia of the 7th c. BC.
The object is associated with Temple V.c on the Timpone della Motta, Scavi Kleibrink 1991-2004, and is now in the National Archaeological Museum at Sibari.Lit.: Mittica, Handberg, Jacobsen 2007, 28.
Van der Wielen-Van Ommeren, Kleibrink 2008, 88
[1] Incoronata I, nos. 52, 75.