Museum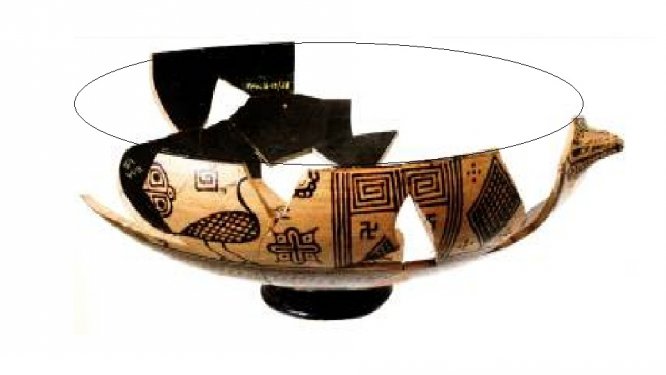 East-Greek skyphos (drinking bowl) decorated with birds and panelled motifs, Scavi Kleibrink 1991-2004, Timpone della Motta, 7th c. BC, National Archaeological Museum, Sibari.
V.H.1. East Greek bird skyphos, Athenaion, Timpone della Motta
For the recovery of this bowl we really must be grateful to SØren Handberg from Arhus University, who with infinite patience collected the tiny fragments from many disturbed (by looters) contexts from 6 years of excavation on the top of the Timone della Motta.
This exceptionally thin-walled vessel (at the rim the sherd is less than 2 mm thick), on the inside entirely covered with black glaze and on the outside's natural background decorated with finely detailed motifs may be classified as an East-Greek bird bowl. It is hitherto the finest in its class and quite exceptional in Italy or elsewhere.
The bowl may be dated near the end of the 7th c. BC and a large production of bird bowls (compare e.g. Museum no. ) proceeded this fine specimen.
Neutron activation analysis on fragments from bird bowls has assigned several specimens to pottery workshops in Miletos, but different clays from the Milesian were also detected and such bowls may have been produced also elsewhere along the Turkish coast.
The object was found during the Scavi Kleibrink 1991-2004 on the Timpone della Motta and is now in the National Archaeological Museum at Sibari.