Museum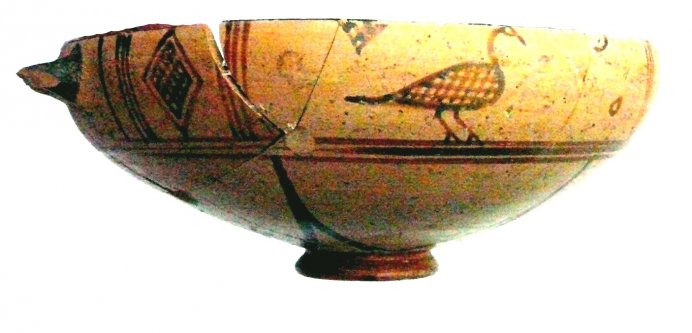 East-Greek cup with bird and lozenge decoration, so-called 'bird bowl', height 5.5 cm?, Timpone della Motta, 650-615BC, National Archaeological Museum, Sibari.
V.E.2. East-Greek cup
This perfectly hemispherical bowl with its low base originally had two horizontal handles, placed on either side immediately below the rim. The bowl has been re-assembled by Søren Handberg. Shards of this type of bowl, with a painted star radiating from the foot, are fairly common on the Timpone della Motta. Fragments of earlier types with an entirely black glazed base (675-650 BC), on the other hand, are rarer.
The cups' diameter is usually ca. 15 cm, which is characteristic for Greek drinking cups.
A fairly large quantity of imported pottery from Ionia was found on the Timpone, and its good quality is remarkable. Perhaps its luxury 'feel' made it expensive and therefore particularly suitable for dedication in the sanctuary.
The object comes from the Acropolis, Timpone della Motta, Scavi Kleibrink 1991-2004, nos. AC/// and is now in the National Archaeological Museum at Sibari.