Museum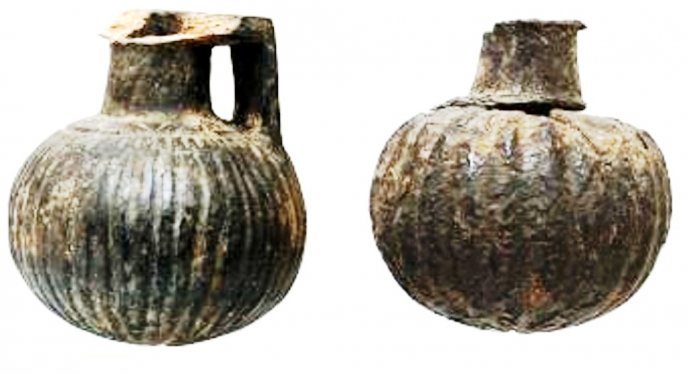 Two ribbed aryballoi (scent bottles) of Ionian Grey Ware, heights 4.8 and 4.7cm resp., found on Timpone della Motta, second half 7th century BC, National Archeological Museum, Sibari.
V.E.1. Two ribbed aryballoi of Ionian Grey Ware
Many aryballoi were found on the Acropolis of the Timpone della Motta, but with the exception of these two complete specimens there were only fragments of three others of what is usually called Ionian Grey Ware or Rhodian bucchero.
The term Ionian Grey Ware or bucchero (the latter term better known in association with black Etruscan pottery) refers to pottery that has been intentionally fired to a deep black. Surfaces are shiny and metallic, as a result of careful polishing before firing.
The term bucchero is also used, to distinguish this darker product from the Aeolian Grey Ware. This latter ware had a long tradition in Anatolia and resurfaced in eastern Greece during the early 7th c. BC, but later disappeared altogether.
These little vessels clearly imitate a pomegranate, which was also often imitated in metal or terracotta (Museum n. III.C.2.). Apart from the fruit's symbolic meaning, these imitations may refer to the use of dried and hollowed-out pomegranates as containers for scented oil.
The rarity of these vessels and their close association with no less than three terracotta figurines suggest a special occasion, when instead of the imported Corinthian perfumes usually offered in the Athenaion, more exotic - and probably more expensive - perfumes from eastern Greece were preferred.
The objects were found on the floor of Temple V.d, together with object III.A.1. and two specimens of the Dama 2 type no. III.A.3., on the Timpone della Motta, Scavi Kleibrink 1991-2004, no. AC05.07.bu01, AC05.07.bu02.