Museum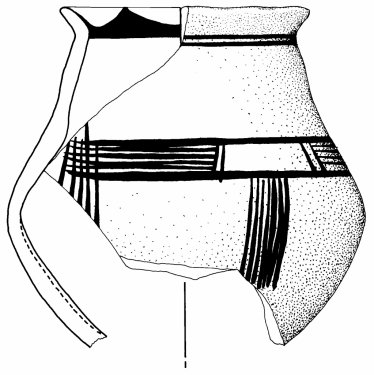 Jug decorated in the matt-painted Fringe Style, preserved height 12.5cm, found on the Timpone della Motta, 8th century BC.
V.A.6. Jug decorated in matt-painted Fringe Style.
This hand-made jug - that has unfortunately lost its handle - has a conical neck, which is characteristic for matt-painted wares produced in the Francavilla workshops during the Iron Age.The shape derives from that of hand-made impasto vessels of the so-called Proto- Villanovan period; it was adopted by the South-Italian workshops and applied to their products in refined clay.
The Fringe Style decoration is also typical of Late Geometric workshops in the Sibaritide; it seems to be a strictly regional style.
The object is associated with posthole AA (later renamed ..) of Temple V.c on the Timpone della Motta, Scavi Kleibrink 1991-2004, no. AC2003.mp01. It was found together with a fragment of a Thapsos cup (compare Museum No.) and with impasto sherds.
This is yet another argument - together with the askos in Fringe Style from the tomb with the Bocchoris seal - for dating this style (and the building of Temple V.c) to the last quarter of the 8th c. BC.