Museum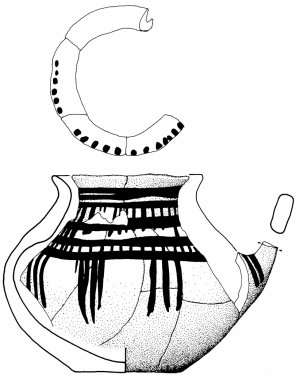 Hand-made dipper cup with matt-painted decoration in the 'Fringed Style', from the Scavi Kleibrink 1991-2004, Timpone della Motta, height //cm, second half 8th c. BC, National Archaeological Museum, Sibari.
V.A.10. Matt-painted dipper cup in 'Fringed Style', Hut IV on plateau I, Timpone della Motta
Archaeological objects are excavated and reconstructed by people, and some are linked to strong personal memories.
This dipper cup has been re-assembled out of many fragments, some quite severely burned, and on a photo the complete pot does not look very pretty. Fortunately, during the last decade of the past century the GIA (Groningen Institute of Archaeology) provided the excavation on the Timpone della Motta with an excellent draughtsman, the Dutchman Huib Waterbolk, who produced this far more pleasing drawing. With his untimely and deeply regretted death, what had probably been the strongest support for the excavation fell away, and publication of the finds has been severely hampered ever since.
The cup is hand-made from stacked clay rings, which on the outside have been smoothened with a spatula or stick.
The decoration consists of a fairly coarse fringed frieze, composed of two parallel and horizontally hatched bands flanking a central band that is largely empty except for some slapdash stripes. From the lowest band sets of long fringes hang down over the cup's belly. Such long fringes, and so many, are rare among the decorations in this style group. They do, however, also appear on an askos found in the remains of the same Oenotrian dwelling that also produced the dipper cup (no. IV), on Plateau I of the Timpone della Motta (cf. Museum no.).
The 'Fringed Style' developed in the local pottery workshops near the Timpone della Motta out of earlier local Oenotrian motifs. Distribution seems to be limited to the region around Francavilla Marittima (the Sibaritide).
For a single case of an exported object in this style – to Pithekoussai on Ischia - see the description of the Fringed Style askos mentioned above. The context of that exported specimen dates the style, this dipper cup and the dwelling on Plateau I to the last half of the 8th c. BC.
The object comes from the Scavi Kleibrink 1991-2004 on Plateau I of the Timpone della Motta, no. IV.2A2.mp22 and is now in the National Archaeological Museum, Sibari.