Museum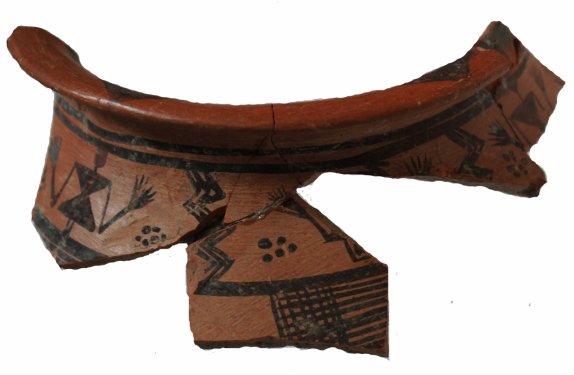 Fragment of a matt-painted vase with depiction of worshippers, height //cm, Scavi Kleibrink 1991-2004, Timpone della Motta, now in the National Archaeological Museum, Sibari.
V.A.8. Vase fragment with depiction of worshippers, Athenaion, Timpone della Motta
This interesting fragment of the neck of a vase is decorated with stylised, hourglass-shaped human figures. Their - very long - arms are held sideways and the palms of their enormous hands are held outwards. The space between the figures is filled in with zigzags, rosettes and birds.
A famous vessel found near S. Maria d'Anglona, an Oenotrian settlement near Policoro, shows similar human figures.
Fortunately, a fragment of the lower section of the same vase, also from the Timpone della Motta, explains the meaning of the figures on its neck.
The lower frieze (see Figure A) consists of two motifs: an 'a tenda' decoration, so named because of its obvious likeness to a tent, and a human figure with raised arms, here with a stylised, columnar body. This motif is found on several vessels from Macchiabate tombs and from the Acropolis of the Timpone (compare Museum //).
Terracotta figurines from the same locations (cf. Museum no. III.B.2. and III.B.3.) also illustrate the importance of images of figures with raised arms for the local Oenotrians.
During the Bronze Age, images of the goddess with raised arms spread out from Crete to a large part of the Mediterranean region, and these Oenotrian figures are a continuation into the Iron Age of the same motif.
Elements of the scene now become clear: the upper frieze depicts worshippers and the lower one images of the Mediterranean goddess with raised arms alternating with those of her sacred dwelling (the 'tent'). But what of the strange 'monster', composed of four triangles, a raised arm and four pairs of human legs and feet?
Since the goddess herself has no head either, we can probably assume that the triangles represent human individuals, and the large raised arm suggests that they are probably worshippers, shown in procession.
The fragments come from the Scavi Kleibrink 1991-2004 and are now in the National Archaeological Museum at Sibari.