Museum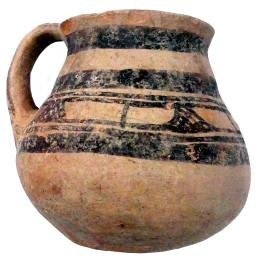 Matt-painted drinking mug or juglet decorated with broad bands, height 8.4cm, found during the Scavi Kleibrink 1993-2004 on the Timpone della Motta, Middle Geometric period, 9th/8th c. BC, National Archaeological Museum, Sibari.
V. A.2. Matt-painted juglet with broad decorative bands
This mug or juglet with its globular body and conical neck was hand-made from horizontally stacked clay rings. Fingerprints along the rim show that the potter used his/her fingertips. The outside was carefully smoothed before it was painted.
This type of decoration, with its broad horizontal bands, is also known from elsewhere in the Oenotrian region, with slight variations. A vessel from a tomb at Incoronata near Metaponto also displays broad bands around the shoulder with surprisingly small central motifs in the middle section. Other vessels with this type of decoration are known from Torre del Mordillo.
The most common motif in the central frieze is a series of small 'a tenda' triangles. These were also popular in contemporary vase painting in much larger formats and without the framing bands. During the Early Geometric period the triangles' sides were straight, while those of the Middle Geometric period were concave, as is the case on the present specimen.
The object comes from the courtyard of the Weaving House, Timpone della Motta, Scavi Kleibrink 1991-2004, no. AC06.11.mp07, National Archaeological Museum, Sibari.