Museum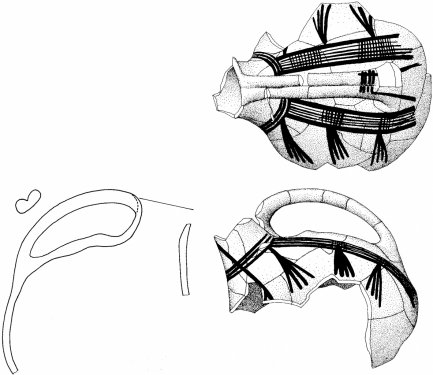 Hand-made askos with matt-painted decoration in the 'Fringed Style', from the Scavi Kleibrink 1991-2004, dwelling IV, Timpone della Motta, height //cm, second half of the 8th c. BC, National Archaeological Museum, Sibari.
V.A.11. Matt-painted askos in the fringed style, dwelling IV, Timpone della Motta
The literal translation of the ancient Greek word askos is 'tube'. In pottery terms, however, 'askos' is the term used for a globular pouring vessel with an overarching handle and a large spout. The form refers back to wine sacks made from animal skins. In Italy askoi were used from the Bronze Age onwards.
This particular askos – re-assembled out of many fragments by Dr Albert J. Nijboer - is hand-made from clay rings and smoothed on the outside. Its handle, added separately, is composed of two round straps.
The decoration consists of two broad friezes, one on each side of the handle and each connected to three lines that encircle the spout. As is usual in this style group the friezes are composed of horizontal parallel lines intersected at regular distances by sets of vertical lines. From the intersections bundles of fringes hang down over the belly of the vessel.
Askoi are particularly suited to pour small quantities of liquid, which is why they are often classified as oil flasks.
At Francavilla Marittima, however, this property may have been used for another purpose. In the Macchiabate necropolis vessels of this type appear almost exclusively in the tombs of small children. Is it too fanciful to imagine small amounts of milk being kept and poured for the young Oenotrians from such vessels?
A very interesting askos, decorated in the 'Fringed Style' of the Sibaritide and therefore almost certainly an imported piece, was found in the tomb of a boy of 2/3 years old, buried in grave // at Pithekoussai on Ischia.
The first object to be noted by the excavator and other experts was the talismanic scarab found with the boy. It was inscribed with the name of pharaoh Bocchoris, whose reign in Egypt covered the period of 720-715BC. Besides the askos the tomb also contained Protocorinthian vessels, dated to immediately after the Late Geometric style of Corinth.
The fact that the askos was buried with a small child, which is also a constant feature in the Macchiabate necropolis, may suggest that the aristocratic family that buried the boy at Pithekoussai was of Oenotrian descent. The association of the askos with a small child suggests that the askos from the S. Montano necropolis[wasn't an heirloom, but is likely to be almost contemporary with the earliest aryballoi in Protocorinthian style.
These observations from Pithekoussai are important because they establish a terminus ante quem for hut IV on Plateau I of the Timpone della Motta, which will therefore have to be placed sometime around 700BC.