Museum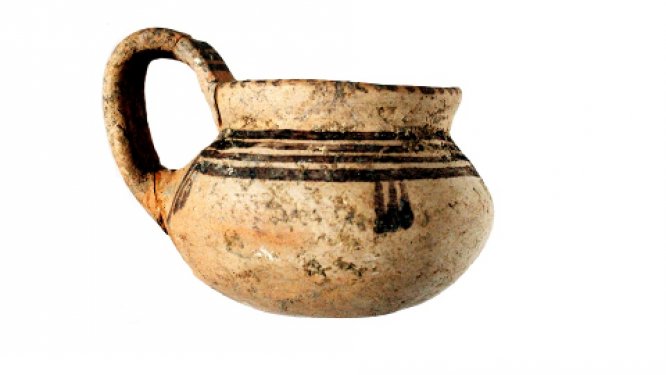 Hand-made miniature dipper cup with matt-painted decoration in the late 'fringed style', from the Scavi Kleibrink 1991-2003, Timpone della Motta, late 8th-early 7th c. BC, National Archaeological Museum, Sibari.
V.A.9. Miniature dipper cup, Athenaion, Timpone della Motta
Not much to explain, one would think seeing this nice small cup with its rather sober matt-painted decoration. But for the archaeologist the object is full of information.
In the first place, the fact that the clay contains specific calcareous inclusions which demonstrate that it was extracted in the neighbourhood of the Timpone della Motta.
Next, that it was fired hard and even, which shows the use of a chamber kiln. The cup is made by hand from stacked rings, but this firing technique is advanced.
However, the pink clay colour resulting from the firing was evidently not the desired hue, because on the outside the cup was entirely covered with a whitish, 'ivory' coloured slip. This slip is found with all the vessels of good quality produced by the workshops near the Timpone della Motta. Perhaps the potters thought it necessary to obtain a better contrast between the matt-painted brownish black decoration and the background.
The shoulder frieze of the decoration consists of a set of four plain, parallel lines and is animated by sets of fringes pending from the lowest line. These expand at the lower ends and are known in better executed bell-shaped fringes too. Generally, this kind of fringes is popular with the Oinotrian painters of the last quarter of the 8th and the fist decades of the 7th c. BC.
The cup with the high handle is a very small example of the 'attingioio' (It.) type or dipper cup. In the pottery deposits of Oinotrian tombs the full-sized dipper cup is often found inside or in the opening of jars and jugs.
The miniaturisation of this cup may have been deliberate to fit it to the votive practice of the sanctuary in which it was found.
The object was found during the Scavi Kleibrink 1991-2004, and is now in the National Archaeological Museum, Sibari.