Museum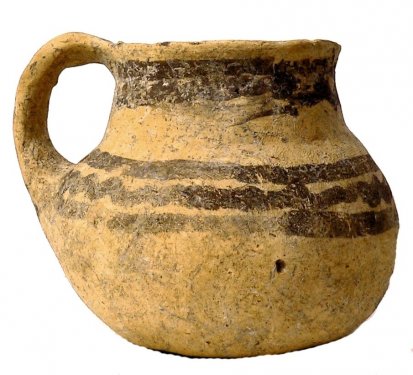 Drinking mug, decorated with two undulating band friezes in matt-paint, refined clay, height // cm,Weaving House, Timpone della Motta, late 9t h- early 8th c. BC., National Archeological Museum, Sibari.
V.A.1. Drinking mug with undulating band friezes in matt paint
This drinking mug was handmade from horizontally stacked clay rings.
The matt-painted pottery in 'Undulating Band Style' of Southern Italy is especially known from the Oinotrian sites of Torre del Mordillo, Castrovillari and Francavilla Marittima, near the later Greek colony of Sybaris.
The style is inspired to some extent by wheel-thrown pottery and decorated with wavy lines in a shining paint (cf, Museum no. V.B.2.). It was produced by Euboian craftsmen in workshops in Francavilla Marittima. Similar Italo-Euboian products are known from Pontecagnano.
The small mugs are often found in Oinotrian graves, with a large number of them being placed inside the mouth of a jug. This was for instance the case in tomb // in the large burial mound commonly called 'Temparella' at Macchiabate, Francavilla Marittima.
The object stems from the fill of the sacred building called the 'Weaving House', found during the Scavi Kleibrink 1991-2004, on the Timpone della Motta, near Francavilla Marittima (Calabria).