Museum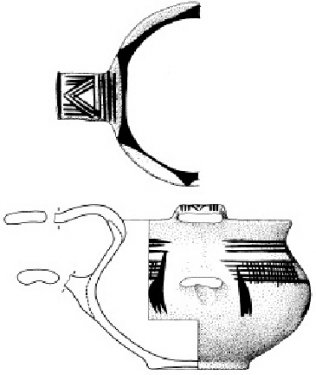 Cup or kantharos in the matt-painted 'fringed style', height 9.5cm, maximum diameter 13.8 cm. Found during the Scavi Kleibrink 1991-2004 on the Timpone della Motta, 8th century BC. National Archaeological Museum, Sibari.
V. A.5. Cup or Kantharos decorated in the fringed style
The cup is handmade. Its shoulder carries a frieze decoration, divided into crosshatched panels and smaller reserved areas with long pending tufts or bundles of lines. Similar bundles are flanking the handle.
Half the cup is missing, which makes it impossible to establish whether it had one or two handles. If two, it would resemble the kantharos from Tomb 87 at Macchiabate.
This was the tomb of an important man, as is evident from the two large bronze cauldrons included in his grave goods.
The cup from the Timpone may also have been used on special occasions, as it was stratigraphically associated with the ash layer of the altar.
The fringed style is a speciality of the matt-painting workshops of the Sibaritide, and it is found at Francavilla Marittima in particular.
The fragments belong to the phase of Temple V.C. and are now in the National archaeological Museum of the Sibaritide, Sibari.