Museum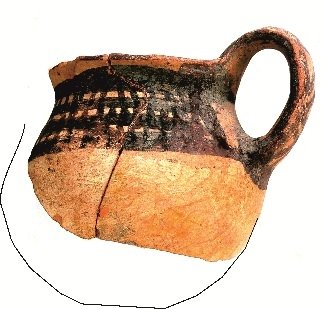 Hand-made drinking mug with matt-painted decoration in the 'Crosshatched Bands Style', from the Scavi Kleibrink 1991-2004, Timpone della Motta, second half 8th c. BC, National Archaeological Museum, Sibari.
V.A.11. Matt-painted drinking mug decorated with crosshatched panels
The small pot was made by hand from stacked clay rings and smoothed with a stick or spatula and a piece of leather.
The single handle doesn't rise as high above the rim of the globular body as do the handles of the dipper cups (see e.g. Museum no. V.A.7.), which suggests that this vessel was mainly used as a drinking mug.
The rather coarse decoration consists of a front and a back panel filled with crosshatched bands, the horizontal lines being much thicker than the vertical ones. The area underneath the handle is left blank and a filled in circle is painted around the lower handle attachment.
This decoration style, including the black circle, was inspired by similar but much more refined matt-painted decorations found on drinking cups and mugs imported from the region around Taranto (cf. Museum no. ).
While the original vessels are either made of an almost white-firing clay or are covered with a white slip, local Oenotrian imitations such as this one are made from pink-firing clay.
The Messapian originals date from the Late Geometric period, which suggests a similar date for this vessel.
The object comes from the Scavi Kleibrink 1991-2004 on the Acropolis of the Timpone della Motta, and is now in the National Archaeological Museum, Sibari.