Museum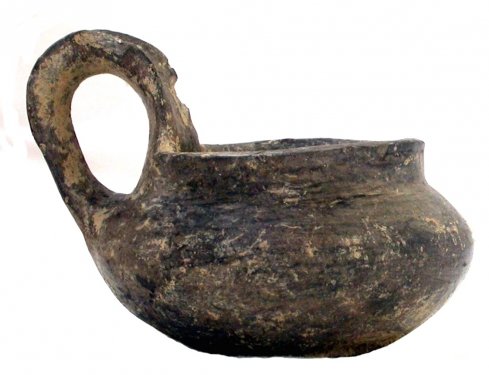 Grey Ware cup with high handle, found on the Timpone della Motta, 9th/8th c. BC, National Archaeological Museum, Sibari.
V.D.1. Grey Ware cup
Its sturdiness was responsible for the fact that this compressed globular cup with its straight rim and high handle was found intact. It was made of stacked clay rings and carefully burnished.
The tradition of Grey Ware pottery is old, and Aegean. During the Late Bronze Age it was adopted by potters at nearby Broglio who produced elegant, silvery cups on fast wheels.
This cup, however, stands in the local Iron Age tradition although it intentionally imitates Grey Ware, probably because of its cultic association. A similar cup was found in the ash layer associated with the altar in the courtyard of the Weaving House.
In Italy such shapes are called attingitoio, which refers to their function to scoop up liquids from larger containers.
The object comes from the Acropolis, Timpone della Motta, Scavi Kleibrink 1991-2004, no. AC25.22.10.
Lit.: Kleibrink 1996, no. 3.35.