Museum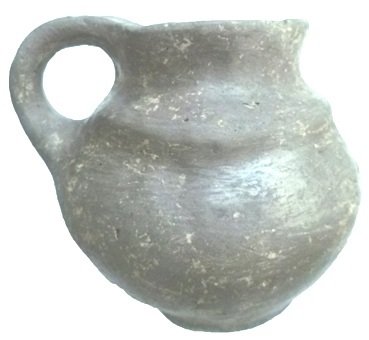 Small Grey Ware mug from the Athenaion on the Timpone della Motta, found during the Scavi Kleibrink 1991-2004. Height 7cm. 1st half 8th century BC, National Archaeological Museum of the Sibaritide, Sibari.
V. D.2. Grey Ware mug, Timpone della Motta
As was explained in the section on the Grey Ware cup of Museum nr. V.D.1., this type of pottery required special treatment. Its production spread during the Bronze Age from the Aegean to other Mediterranean regions.
Its distribution in the Sibaritide comprises Late Bronze Age vessels at Broglio di Trebisacce and Early Iron Age pottery at Torre del Mordillo and Francavilla Marittima.
In a sense the potters who produced these wares – in Francavilla Marittima by hand – were deliberately referring to the Aegean tradition, but they 'forgot' that the shape of this little mug – almost spherical and with an added low, slightly convex conical neck – actually derived from the taller convex-conical impasto or – less frequently – matt-painted jars from the Proto-Villanovan tradition. Interestingly, this little mug displays a combination of Aegean ware and Italic shape.
The object is associated with Temple V.c and was found on the Timpone della Motta, Scavi Kleibrink 1991-2004, no. AC03.36.ko20.