Museum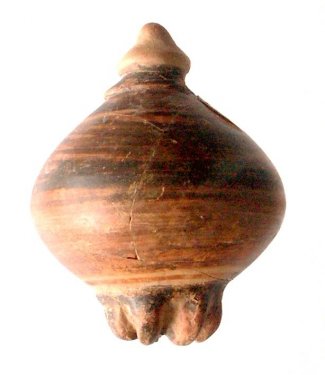 Terracotta pomegranate, reddish-brown glaze, height 7cm, found during the Scavi Luppino 1986-1987 on the Timpone della Motta, early 6th c. BC, National Archaeological Museum, Sibari.
III.C.II. Terracotta pomegranate
Such clay models of fruits were made in Eastern Greece and used as votive offerings in many sanctuaries, including the Heraion on Samos.
According to one powerful ancient legend involving a pomegranate, Hades, king of the Netherworld, gave Persephone – his wife whom he had abducted from her mother Demeter – seeds of this fruit to eat before consenting to her return to earth. It was a trick: anyone who ate or drank in the underworld was doomed to spend eternity there. Thus the six seeds she ate condemned Persephone to spend six months of every year in the underworld. While she is there, enthroned next to Hades, her mother Demeter mourns and refuses to make the earth fertile.
Pomegranates may thus have come to symbolise the disappearance and subsequent return of the goddesses of vegetation, and of vegetation itself.
Similar votive pomegranates from the Lokroi sanctuaries directly refer to the Demeter and Kore myths. Those from the Athenaion at Francavilla show that Athena, too, was associated with the return of vegetation and fertility.
The object has been found during the Scavi Luppino 1986-1987, no. ??, and is now in the Archaeological Museum at Sibari.
Lit.:
Immerwahr 1989.