Museum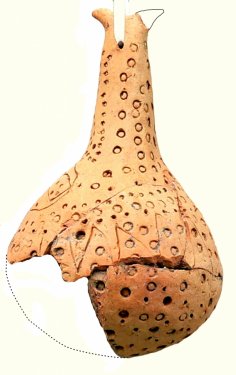 Terracotta rattle, decorated with punched circles, found on Timpone della Motta, 8th century BC.
III.C.1. Rattle decorated with punched circles
The simple, fully covering decoration of this very rare object with its long stem and suspension hole in the top, consists of small circles punched in with a reed and a wildly zigzagging line incised over the widest diameter. On the shoulder an incised leaf pattern. Complete, the hollow object must have contained dried seeds or other rattling elements.
The rattle obviously resembles a pear-shaped gourd and the decoration shows that the similarity is deliberate, because such fruits grow surrounded by leaves and wildly growing stalks. Moreover, many fruits are covered with coloured specks or small bumps.
Specialists are of the opinion that the several species of the cucurbitaceae family originated in Africa and spread over the world by the sea. Over water the fruit travels large distances protecting the sprouting capacity of its seeds. The terracotta rattle is proof that the Oinotrians knew the fruit and used it. In many cultures hollowed-out gourds have been used as rattlers and musical instruments. Because a painted rattle was also found in the context of the Weaving House, such objects may have been used in cult performances.
The rattle is associated with the sacred Weaving House, found on the Timpone della Motta, Scavi Kleibrink 1991-2004, no. AC//.