Museum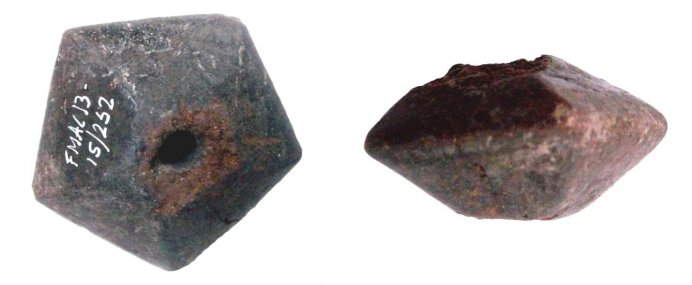 Pentahedral spindle whorl, found during the Scavi Kleibrink 1991-2004 on the Timpone della Motta, 8th century BC, National Archaeological Museum, Sibari.
IV.A.3. Pentahedral spindle whorl
The whorl is made of unrefined impasto clay and carefully burnished.
The most important property of a spindle whorl is its balance: the hole must be centrally placed and the weight evenly distributed. An unbalanced whorl makes the spindle wobble and stop quickly, which may cause the yarn to snap.
Surprisingly, for experienced spinners whorl shape has very little effect on the spinning properties.Most whorls from the 'Weaving House' on the Acropolis of the Timpone della Motta are biconical and consequently have their greatest mass at the centre.
Pentahedral types are common, either in this form with straight sides or star-shaped (see the next item).
The pentahedral whorls occur in several weight categories. They range from 4 to 34g, the whorls of medium weight being most common.
The object is associated with Temple V.c on the Timpone della Motta, Scavi Kleibrink 1991-2004, no. AC13.15.wh262, National Archaeological Museum, Sibari.