Museum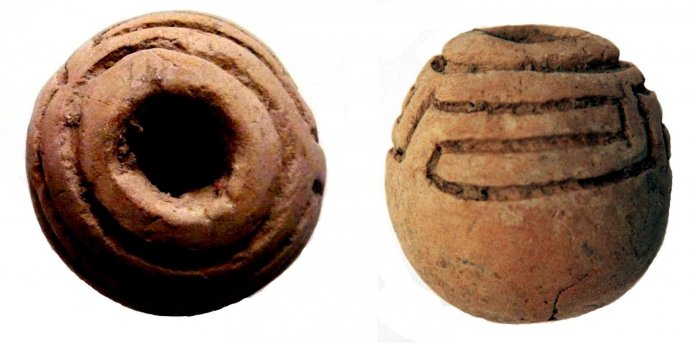 Globular to oval spindle whorl, decorated with incised meander; refined clay, Weaving House, Timpone della Motta, 8th c. BC, National Archaeological Museum, Sibari.
IV.A. 1. Spindle whorl with incised meander
This spindle whorl was used in combination with a stick – the spindle - to spin wool.
The incised meander motif was originally filled in with a white paste, to form a pleasing contrast with the background. The effect would be enhanced when the spindle was being twirled.
The type is commonly referred to as a low-whorl drop spindle, and it was widely used in Antiquity. The whorl is stuck to the bottom end of the spindle and the spun yarn is wound on the shaft directly above the whorl.
Thus, the mass of the low-whorl spindle is concentrated at the bottom end of the shaft, which makes it spin more slowly than the high-whorl spindle. It is best suited for spinning thicker yarns and heavier fibres.
The meander indicates that this side of the whorl was probably facing up while the spindle was being used. This is confirmed by the elongated top section and the squat lower section, which makes the whorl spin around more smoothly. The hole does not show much wear, which suggests that the whorl hasn't been used much.
The object stems from the fill of the sacred building called the Weaving House, found during the Scavi Kleibrink 1991-2004, on the Timpone della Motta, near Francavilla Marittima (Calabria), no. AC///.