Museum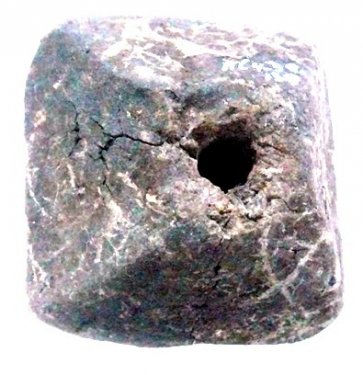 Square spindle whorl showing wear marks around the hole, impasto clay, Scavi Kleibrink 1991-2004, no. 04.30.138. From the Weaving House, Timpone della Motta, 8th c. BC., National Archaeological Museum, Sibari.
IV.A.4. Square spindle whorl
Spindle whorls like this specimen were used in combination with a stick – the spindle - to spin wool.
Whorls with a square circumference are unusual because the shape contrasts with the spinning movement, which would make its use seem counterintuitive.
Nonetheless, square whorls are quite common among the 300-odd specimens found among the remains of the Weaving House on the Timpone della Motta.
This suggests that the placement of the central hole is more important to a whorl's balance than its shape. The double conical form further enhances the spinning movement.
Still, one wonders if the heavy wear marks around the hole, where the spindle entered, were the result of an uneven spin.
For the type of low-whorl drop spindle that was widely used in Antiquity, see Museum no IV.A.1.
The object stems from the fill of the sacred building called the Weaving House, found during the Scavi Kleibrink 1991-2004, on the Timpone della Motta, near Francavilla Marittima (Calabria).