Museum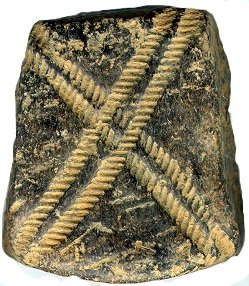 Impasto loom weight with impressed cord decoration, from the Scavi Kleibrink 1991-2003, Timpone della Motta, AC05.16.lw12, 8th c. BC, National Archaeological Museum, Sibari.
IV.B.2. Loom weight with impressed cord decoration, Weaving House, Timpone della Motta
This weight is hand-made from unrefined clay and nicely burnished to produce a shiny black surface. The front and back sides are decorated with two parallel, diagonally crossing cord impressions; evidence that finely made cords existed in Oinotrian society.
They also demonstrate a specific use of the weights, which were probably attached to the warp threads of a standing loom. The ancient standing loom can be reconstructed from finds like these weights and from pre-modern loom types from Scandinavia.
A bundle of 10 to 25 warp threads was fastened to a weight by means of the hole through the upper section of the side. This suggests that the weights were suspended with their narrow sides to the front.
This would have made the decoration virtually invisible, and it would also have caused the decorated sides to bump against the back of the weight in front whenever the weaver changed the heddle bar.
The front of this loom weight, however, shows hardly any damage, even though it is made of soft impasto and use marks on the hole in the side show that it has been used.
We therefore think that the cord impressions reflect a specific method to fixate the loom weights, i.e. tying a cord around them (Fig. A).
The advantage of this method is that a set of weights lasts longer and doesn't clang during weaving. Moreover, warp threads can be easily fastened to the loop over the top of the weight.
The object comes from the Weaving House, found during the Scavi Kleibrink 1991-2004 , no. AC05.12.lw02, on the Timpone della Motta, and is now in the National Archaeological Museum at Sibari.