Museum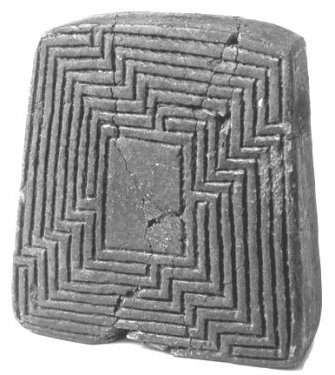 Loom weight with incised labyrinth, impasto clay, late 9th- first half 8th c. BC, National Archaeological Museum, Sibari.
IV.B.1. Loom weight with incised labyrinth, found during the Scavi Stoop, late 9th-first - half of the 8th c.BC.
The weight is a hand-made slab of non-refined clay, shaped like a trapezium. The dark brown surface is nicely burnished, while the incised labyrinth motif was originally filled with a contrasting white paste. Small holes punched in with a pointed stick fixated the paste.
Such weights were used on warp-weighed looms to hold warp-threads under tension by tying them in bunches to the weights. This weight has a horizontal suspension hole circa 1.5cm below the top.
The labyrinth motif has four entrances, leading from the outside to an empty rectangular inner space.
Circa 40 similar weights displaying variations of the same motif were found in situ on the Timpone della Motta near Francavilla Mma. They indicate not only the presence of a vertical loom in the 'Weaving House', but also that the weavers working at it were familiar with labyrinths, but also that these Oinotrian women were clearly acquainted with old Aegean motifs.
The object stems from the fill of the sacred building named the Weaving House, found during the Scavi Stoop 1963-69, on the Timpone della Motta, near Francavilla Marittima (Calabria).