Museum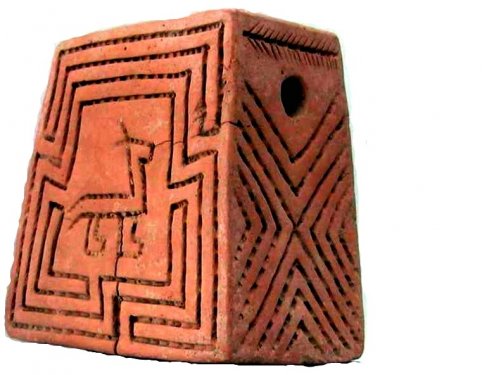 Hand-made loom weight with horse and palm motifs, from the Scavi Kleibrink 1991-2004, no. AC18.13.lw05, Timpone della Motta, late 9th-early 8th c. BC, National Archaeological Museum, Sibari
IV.B.4. Loom weight with horse and palm motifs, weaving house, Timpone della Motta
This weight is by far the nicest specimen among the weights from the Weaving House. It is made of refined clay and fired into a harder fabric than the - more common - impasto loom weights.
It is 10.5cm high and 6.2cm wide at its base, and weighs almost 1 kilogram. Its decoration consists of a labyrinth of the reduced type no. 2 (cf. Museum no. IV.B.3). Although the animal in the centre of one of the broad sides is depicted with fairly short legs, it probably represents a horse, since deer, the other quadrupeds often depicted in Oenotrian art, are always shown with antlers (cf. Museum no. IV.B.5).
The horse, in combination with the palm branches incised on the smaller side and on the top, probably refers to a festive occasion in which horses played a role.
Moreover, the horse's association with a labyrinth evokes a tradition mentioned in ancient literary sources, according to whom a form of horse dressage called the 'Troy game', in which horses performed complicated movements reminiscent of a labyrinth, was held in high esteem.
Other sources describe the 'dancing horses of Sybaris' and state that the cavalry horses of that city could dance to music. Unfortunately, this became their downfall during the battle against Croton when Crotoniate pipers, having found out the appropriate tune, trapped the horses and their helpless riders in an involuntary dance.
When combined with the information from these ancient sources, this weight with its extraordinary decoration supports the hypothesis that horse dressage or games with horses involving a labyrinth (drawn on the ground or indicated with stones, for example) probably took place on the Timpone della Motta as early as the 8th c. BC.
That such heavy loom weights were really used to weigh down the warp threads of a vertical loom is shown by the rows of in situ weights found among the remains of the Weaving House. The heaviness of many of these weights suggests that the loom in the Weaving House was probably used to produce very heavy fabrics or tapestries.
One object that comes to mind is a heavy, tapestry-like sacred apron, such as the – later - Dama I statue is wearing. No doubt this garment would have been decorated, and the motifs incised on the weights make more sense if interpreted as patterns intended to be copied by the weavers in the Weaving House.
The legs of the horse on this particular weight also support its interpretation as a weaving pattern, or at least that it was drawn by a weaver, for when designing a weaving pattern it makes sense to draw the two pairs of legs each as a single unit.
The object comes from the excavation unit just south of, and below, the rows of in situ weights found in the Weaving House on the Timpone della Motta during the Scavi Kleibrink 1991-2004. It is now in the National Archaeological Museum of the Sibaritide, Sibari.