Museum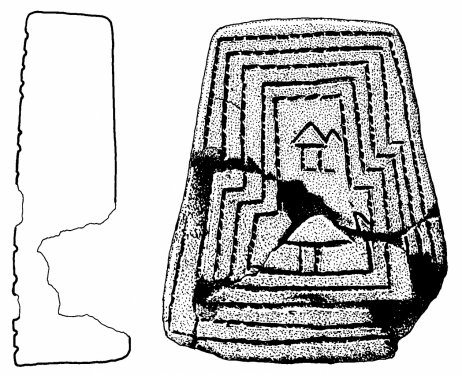 Hand-made impasto loom weight with incised aquatic birds from the Scavi Kleibrink 1991-2004, Timpone della Motta, late 9th-early 8th c. BC, National Archaeological Museum, Sibari.
IV.B.3. Impasto loom weight with aquatic birds, weaving house, Timpone della Motta
This weight, which is decorated with a simplified version of the labyrinth, was classified as a type 2 specimen. This type shares the labyrinth motif with the type 1 weights (cf. Museum no. IV.B.1) but in a simplified form, with the central motifs receiving more attention. Here, the central area contains two incised images of birds, a smaller one above a larger one.
The birds' forms are simple, consisting of a triangular body with two vertical legs of medium length and a single hook forming a neck, head and beak.
Bird images of this type are fairly well known from Oenotrian matt-painted vessels, and they were certainly sacred images.
On a loom weight, an object almost certainly produced by the weaver herself, such images were perhaps thought to help her spiritually when weaving birds into a pattern.
It is impossible to establish whether these two birds represent a young and an adult specimen, because the upper central section of the reduced meander motif is narrower, forcing the engraver to make the upper bird smaller as well.
The object was part of a line of weights found in situ in the Weaving House on the Timpone della Motta during the Scavi Kleibrink 1991-2004. It is now in the National Archaeological Museum of the Sibaritide, Sibari.