Museum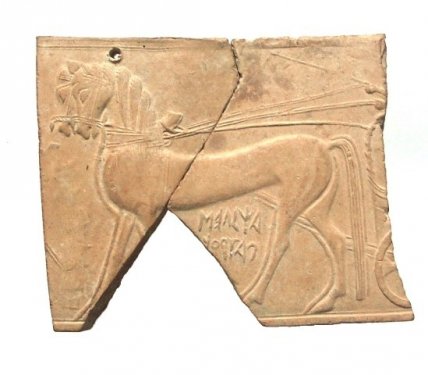 Terracotta pinax ('plaque') of the Patroklos-Achilles type, found on the Timpone della Motta, early 6th c. BC, height 10.6 cm, National Archaeological Museum, Sibari.
III.A.9 Terracotta pinax of the Patroklos-Achilles type
The pinax fragment, with beneath two horses in front of a war chariot the inscribed names of the Greek heroes Achilles and Patroklos, is very similar to a frieze from S. Biagio of slightly earlier date (Fig. A). The frieze shows repeated images of a huge warrior stepping onto a chariot managed by a small charioteer. Remnants on the pinax fragment of the spears of the warrior indicate that pinakes of this type had a repetitive character, as does the S. Biagio frieze.The two names on the pinax are puzzling, since the huge hero must be Achilles, but Patroklos was not a mere charioteer.
The best solution is to reconstruct the pinax scene as depicting two chariots whereby the one in front is mounted by Achilles and the second one by Patroklos. This contrasts with Homer's depiction of the Trojan battle; one of the central themes in the epos is the fact that Patroklos died because Achilles refused to do battle and instead lent his armour to Patroklos. A second possible solution would imply detailed knowledge on the part of the coroplast of the Homeric tales: perhaps Patroklos is depicted in the armour of Achilles.
Whatever may be the case, the huge proportions of the hero in this frieze as well as in the scene on the apron of the Dama 1 (cf. Museum ..) suggest that they refer to events in the heroic past.
It is likely, however, that in the Athenaion at Francavilla and elsewhere such heroic scenes reflected male processions that actually took place in honour of the deity. This hypothesis is strengthened by the fact that later a more generic interpretation became standard. Examples are the Braida, Saturo and Satriano sanctuaries, where the depiction of heroes on terracotta decorative friezes on buildings of prestige came to represent the local male elite. Consequently, we interpret the scene as a representation of male processions of chariots to the Athenaion on the Timpone della Motta.
From the former Bern-Getty collection looted from the Timpone della Motta; Archaeological Museum at Sibari.
Lit.: Mertens-Horn 1992.

Fig. A. Reconstruction of a terracotta frieze with repeating 'warrior departure' scene, Zeus temple, S. Biagio della Venella near Metapontion, 650-625BC, height 20.7cm, (drawing by M. Kleibrink after Mertens-Horn 1992).